Austríaco é campeão do World Wrap Masters na Global Print Expo 2019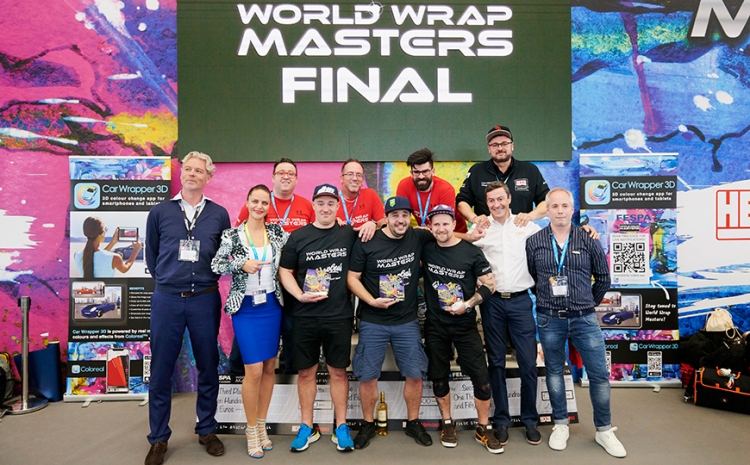 Austríaco é campeão do World Wrap Masters na Global Print Expo 2019
Triain Moldovan, da Áustria, venceu o World Wrap Masters Series Final na FESPA Global Print Expo 2019, que aconteceu de 14 a 17 de maio no Messe Munique, na Alemanha.
A competição World Wrap Masters, na Alemanha, foi patrocinada por Hexis, Mimaki, Wrap Gear e Car Wrapper 3D, que ocorreu em eliminatórias durante o ano e concluiu com duas competições: a Wrap Masters Europe e o World Wrap Masters Series Final.
A competição da Europa aconteceu nos dois primeiros dias de feira, com 30 competidores de 12 países. Casper Madsen, da Dinamarca, foi o campeão da etapa Europa, seguido pelo próprio Triain Moldovan (que viria a ser campeão mundial) da Áustria e Rosas Linares, do México, em terceiro.
Todos os finalistas da competição da Europa enfrentaram os vencedores dos eventos anteriores: Wrap Masters Asia, México e Eurasia, Speedwrap na FESPA Africa, eventos nacionais na Dinamarca e Finlândia, e CAMBEA na FESPA Brasil, que levou para o evento os campeões Francisco Wellington da Silva e José Rafael Xavier, e o vice Calebe San Martins.
Eles foram desafiados a envelopar um VW Wolf e também manequins. Depois de dois dias de intensa competição, Triain Moldovan foi o campeão, seguido por Norman Brübachj, da Alemanha, e Jonas Sjöström, da Suécia. Os brasileiros fizeram um excelente, trabalho, mas não chegaram na final da competição deste ano.
Leia mais
Mais notícias
General Information
March 18-21, 2020
Wednesday to Friday , from 13h to 20h
Saturday, from 10h to 17h

* Expressly prohibited entry for children under 16.

* Entry is prohibited for visitors wearing shorts, sleeveless shirts, slippers and flip-flops.
Expo Center Norte - Blue Pavillion
R. José Bernardo Pinto, 333 - Vila Guilherme
São Paulo - SP - Brazil

For further information about visiting, register or talks:
Glenda Lyra
Tel:+55 (11) 4013-7979
Email
Assine nossa newsletter.
Cadastre-se Agora!